Using A MLS API And Real Estate API For Listings Data
Saheed Opeyemi
March 12, 2021

The days of the smooth-talking, oil-slick salesman are gone. Nowadays, especially in an industry like real estate, the data-driven salesman is everything. As a real estate broker, every once in a while, you'll find that one-in-a-hundred property that sells itself. All you have to do is list it and you'll have buyers swarming you. But what happens to the other ninety-nine? This question is why your predecessors in the industry created MLSs. An MLS (Multiple Listing Service) is a directory of services that help real estate brokers to disseminate information on property listings and offer incentive-based contractual offers of cooperation to fellow brokers. Basically, they use it to share information and help sell each other's properties for a fee.
As the NAR found out, 92% of buyers are house hunting online now. That means people are actively hunting for as much data as they can get before buying properties. With an MLS, you have an advantage as a broker to obtain information about all the features of a property and come up with as many unique selling points as you can. But what happens when the features of a property change? Or the features of the neighbourhood surrounding the property? How do you stay up-to-date with changes in listings so you don't use outdated data to pitch a property? That's where an MLS API comes in. Using an MLS API helps you set up communication between your MLS directory and your real estate apps and software.
In this article. we'll look at MLSs, APIs and how they combine to revolutionize the use of data in the real estate industry. Feel free to navigate to the sections that interest you most with the table of contents below.
Table of Contents
API for Real Estate: What Is an API?
Learning about new technology tools can sometimes be confusing and frustrating, especially when applying them to your work. But don't fear! They are much less intimidating than you think.
What is an API?
An API, or an application programming interface, is a computing interface that defines interactions between multiple software intermediaries. Let's break this down. The most common metaphor to explain how API's work is that of a waitress or waiter at a restaurant.
A waiter has to communicate with the guests of a restaurant, take their order, communicate the patron's order to the kitchen, then deliver the food to the guests. APIs work similarly to this, working as the middle man between two applications. They deliver requests to the provider and then provide a response from the responder.
APIs can define what sort of requests can be made, directions on how to make them, what sort of data formats should be used, and other conventions that may follow. You utilize them almost every day without thinking, such as when you write out a tweet on Twitter. Once you write and push the 'Tweet' button, you're telling an API to want to carry out posting your Tweet, it will go back, publish, and then give you that confirmation that it's posted.
What is API documentation?
When talking about API, there is typically documentation of the technical content deliverables of a given program's API. While complicated, documentation is crucial because it is essentially the big, concise reference manual that delves into everything regarding the API.
The documentation presents the information needed to work with the API, details about functions, classes, arguments, return types, and more, and also examples and tutorials to work with the API. While this is most-used by developers to tweak an API if needed, this breeds higher user satisfaction. In other words, the documentation tells you how to use the API. And if you happen to have programming skills, how to rework it to fit your needs better.
How Does an MLS API Work?
So, how do APIs fit into real estate and MLSs? APIs can be used to transfer property listing data from an MLS (multiple listing service) to an agent's website. An MLS is basically a repository of data on the properties available for sale in a local area. Say, for example, your friend introduces you to someone that wants to sell their home. So you go to the house and appraise it. Once you've appraised the house, you take all the data gathered and enter it into the database for your local MLS. This makes the data available to every other real estate agent registered on that MLS. So, if someone else finds a buyer for a property you listed, you pay them a commission.
Now, it is no secret that you (and every other agent) want the links from the MLS services on your websites or app, but listings in popular areas can change quickly and often and so the problem here is ensuring that these listings are active and reflected accurately in real-time on your site. This is where APIs come in. Using an MLS API allows you to create a direct link between your website or app and the MLS software. This means you can directly update data from the MLS to your software. As changes occur in the MLS database, the MLS API collates these changes and sends them on to your own real-estate software, making sure you are never using outdated data to push a property. Also, it makes your data updates more efficient. Rather than manually trawling the real estate database for changes in listings, the MLS API scrapes the database for you and sends along every change it comes across.
While you can outsource services to ensure links stay dynamic and active, another use of APIs for real estate purposes is web scraping data, to help elevate your listings with new unique data that has the ability to push a potential buyer towards making the final purchase decision.
Why Utilize Web Scraping to Grow Your Real Estate Database?
Like I said earlier, the data-driven salesman is the king of the yard now. It's not enough to glance through the database every now and then. You have to actively involve accurate and quality data in every step of your business process. If you're still skeptical about why you need an MLS API, let me tell you more.
Data is gathered in real-time
As I stated before, great real estate listings have the ability to have multiple offers and even an accepted offer within the span of a day. Besides that, the rate of homes being put on the market during the buying season can be overwhelming to manage workloads of gathering the necessary data for these homes.
With an MLS listings API, you can have the most up-to-date information data collected for you, and you can have confidence that you're delivering the best information to your potential buyers.
Data helps you stay transparent in a millennial market
Now that millennials have moved into the position to be the most targeted buyer, making sure you're staying transparent with your data helps build your credibility and trust to help purchase a property.
Millennials are a data-driven set of people. Most won't make a decision without doing copious amounts of research and good reviews to make sure they're getting the best value out of their investment. Before they make buying decisions, they arm themselves with data such as neighbourhood demographics (such as age, family-type, crime rates, etc.) or the quality of life in the neighbourhood (restaurants, green spaces, exercise paths, etc.).
These are data points that can paint a complete picture that hits those emotional reasons and sells a lifestyle rather than just a property. Imagine if you as the real estate agent have little to no data on these pain points. Sounds a tad shady, doesn't it? Exactly. Using an MLS API allows you to have real-time access to even those data points that are not directly related to the property, such as the construction of a new park in the neighbourhood.
Helps you stay competitive
By scraping useful data that competitors have not even considered as selling points for their listings, you become more trustworthy with your clients. And in a niche like real-estate, the trust of your clients has a lot of impact on your business.
Making sure you have updated data on properties that are listed helps tailor properties down on non-negotiable attributes that a property may have, such as an attached garage, central heat, and air, smoke-free home, etc. This way, searching is more effortless and seamless. Rather than a listing that you had to contact an agent specifically for this type of information, which let's be honest, in this day and age is not always something people want to do.
Saves time
With the utilization of the API that can run commands to scrape every 60 seconds, and automatically(!), you can save yourself the hassle of manually gathering data and spend that time on more valuable aspects of your job.
Mistake-free data
Another beauty of using an MLS API is the confidence that you are getting data directly as it is updated. The API eliminates the possibility of human error in getting the data from the real estate database to your own software. This helps you avoid the loss of credibility that comes from pitching a property with incorrect data.
Using Scraping Robot's MLS Data API for Real Estate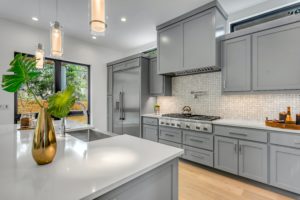 If you happen to be in the market for a high-quality reliable MLS API that you can easily integrate into your real estate apps and software, then Scraping Robot is your best bet. In a bid to simplify web scraping and data collection to the level of point-and-click, we have developed an API that integrates seamlessly with any data analytics software or processor and allows you to funnel data from the source to your software in real-time, with minimal input from you.
Using Scraping Robot's API, you can set up a data collection funnel that transfers data and information from the source into our API and then directly into your real estate software. Our scraping API allows you to integrate our scraping solution into any software or process and feed data directly into it. By serving as an interface between the scraping software and your website or app, you can collect data in real-time and even set up automated scraping sessions at regular intervals.
Our API is properly documented and extremely easy to use. To get started, just go to our API page and you can set up your data collection funnel in a matter of minutes. By using Scraping Robot's API as your MLS API, you can take full advantage of your membership in the local MLS to always have up-to-date data for your potential customers.
Conclusion
Understanding APIs and web scrapers are less complicated than you think and can be incredibly beneficial for you to revolutionize the way you can sell a property. Scraping Robot wants to give you the gift of an MLS API for you to remain credible, competitive, and within budget!